Offering a competitive 401(k) retirement plan is one of the most valuable ways you can invest in your employees, but plan administration and helping employees make informed decisions can be challenging. For startups especially, offering a 401(k) match has proven to be a competitive advantage when attracting top-tier talent.
Having a platform to effectively manage a retirement plan and track participation with tools to model the financial impact of a match strategy in-advance is critical to providing a valuable and engaging benefit for employees. Companies need access to data and tools to trust that their retirement plan offering is competitive and empowers employees to own their financial future.
The latest development for the Sequoia People Platform is now helping our clients see their workforce and program information together in one place, enabling them to manage their benefits more effectively and with ease.
Benchmarking for Retirement Plans
As of March 2021, business leaders can glean insights from other companies across industries to see everything from auto-enrollment approach to default employer-match amounts. The new feature expands the Total Benefits Benchmarking in Sequoia HRX, adding abilities such as:
Filtering by industry and company size to see other companies like yours
Comparing your retirement plan to the market to answer questions, including:

How does our active participation rate compare to the benchmark?
What are the most common waiting periods before enrollment?
How does our vesting strategy compare to the benchmark?

Viewing market prevalence of:

Automatic enrollment
Default annual automatic increase
Employee contribution matching
After-tax conversation
And much more!
Sequoia Clients can access this benefit by selecting "Retirement" under Benchmarking in HRX.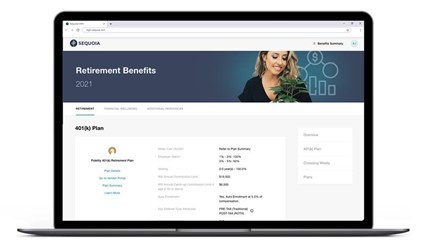 Retirement Benefits Sites for Employees
In addition to retirement plan benchmarking, we rolled out customizable Retirement Benefits sites on our platform to further support employees distributed around the country. Now, Sequoia clients can share everything employees need to know about their retirement benefit— complete with resources and tools to support their financial decisions.
We're excited to share these Retirement enhancements with our 401(k) clients to help you make more informed decisions and support financially healthy employees. To get started, reach out to your 401(k) plan advisor or email 401k@sequoia.com.
Disclaimer: This content is intended for informational purposes only and should not be construed as legal, medical or tax advice. It provides general information and is not intended to encompass all compliance and legal obligations that may be applicable. This information and any questions as to your specific circumstances should be reviewed with your respective legal counsel and/or tax advisor as we do not provide legal or tax advice. Please note that this information may be subject to change based on legislative changes. © 2021 Sequoia Benefits & Insurance Services, LLC. All Rights Reserved