Offering a competitive 401(k) retirement plan is one of the most valuable ways you can invest in your employees, but plan administration and helping employees make informed decisions can be challenging. Plan administrators juggle many tasks including monitoring the many compliance requirements, while employees are faced with understanding how to pick the right investments.
What if you had a simple way to view all your 401(k) data in one place and your employees had easy-to-use tools and resources right at their fingertips to take the guesswork out of financial planning?
Recently, we launched Retirements Benefits Sites for our 401(k) clients to provide their employees with an improved digital retirement benefits plan experience. Through Sequoia HRX, built on the Sequoia People Platform, plan administrators can publish these customized sites for their employees and access their 401(k) compliance milestones on one dashboard. They can also track plan details, access knowledge articles, track assets and participant count, and even access a match modeling tool for simple, accurate funding liability based on compensation, participant count, and match formula changes.
For employees, they will now have access to a Retirement Benefits portal with resources and tools to help them make the best decisions for their financial goals, including the ability to: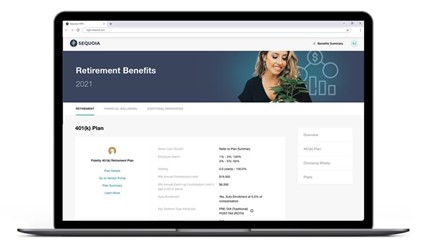 Create a Personal Financial Portal to manage savings and planning milestones, and use budgeting and track spending tools
View complete plan details and access a Summary Plan Description
Link to their vendor's portal to sign up or make deferral or investment changes
Use a Retirement Savings Calculator and the Roth versus Traditional 401k Calculator to help plan for the future
Attend live webinars on various financial topics such as Retirement Savings Basics, Personal Finances, and Creating a Budget and Estate Planning
Schedule an appointment with a financial wellness advocate
We're excited to share Retirement Benefits Sites with our 401(k) clients this week to support more engaged and financially healthy employees. To get started, reach out to your 401(k) plan advisor or email 401k@sequoia.com.
Disclaimer: This content is intended for informational purposes only and should not be construed as legal, medical or tax advice. It provides general information and is not intended to encompass all compliance and legal obligations that may be applicable. This information and any questions as to your specific circumstances should be reviewed with your respective legal counsel and/or tax advisor as we do not provide legal or tax advice. Please note that this information may be subject to change based on legislative changes. © 2020 Sequoia Benefits & Insurance Services, LLC. All Rights Reserved