Events & Webinars
Fueled by a passion for developing real relationships with clients and industry thought leaders, we are always creating and offering ways to connect, inform, and inspire.
Compensation Strategy for VC-Backed Companies
Executive education series
45 min sessions, Thursdays at 11am PT
Our compensation advisors will share key learnings, industry trends, and best practices, as well as the latest market developments and how Sequoia clients are taming the complexity of the comp management process.
This October & November, join us for six essential topics presented every Thursday:
Carta + Sequoia Total Comp Solution: Get Your Comp Strategy Right
Demystifying Compensation Philosophy
How to Use Equity to Retain and Recruit When Cash is Tight
Pay Equity Compliance: How to Protect Your Company
5 KPIs that Prove the Effectiveness of Your Total Comp Program
Comp Management for a Geographically Dispersed Workforce
Recent Webinars & Virtual Conferences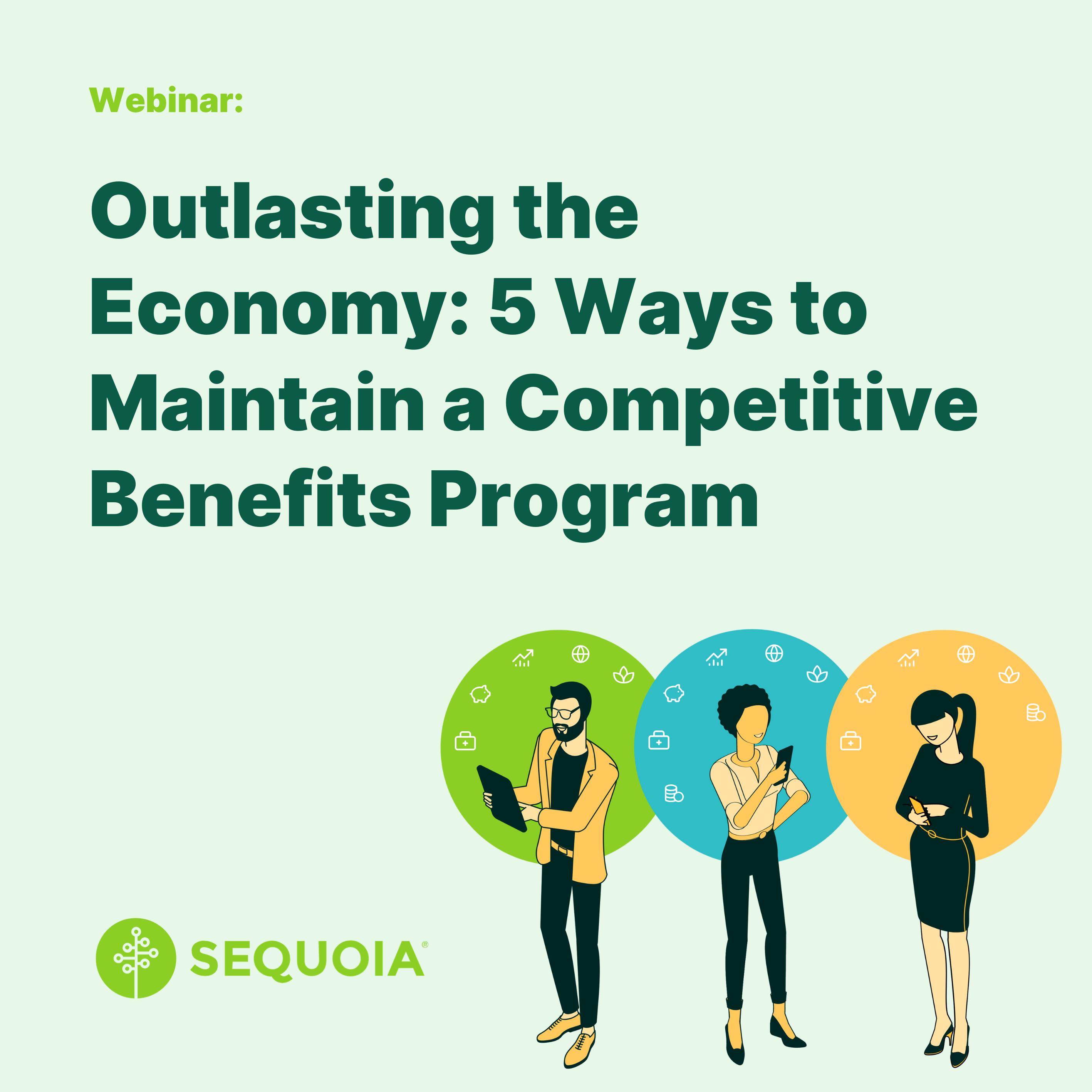 Outlasting the Economy:
5 Ways to Maintain a Competitive Benefits Program
Designed for companies of all sizes
You're being asked to do a lot—invest in your employees but also cut back, create a high-performing people strategy but also navigate an unstable economy, ensure your benefits package is competitive but also aligned with business goals.
In these 30-minute webinars, our benefits advisors help you navigate these challenges by breaking down the top 5 ways successful companies are changing and maintaining their benefits programs in today's economy.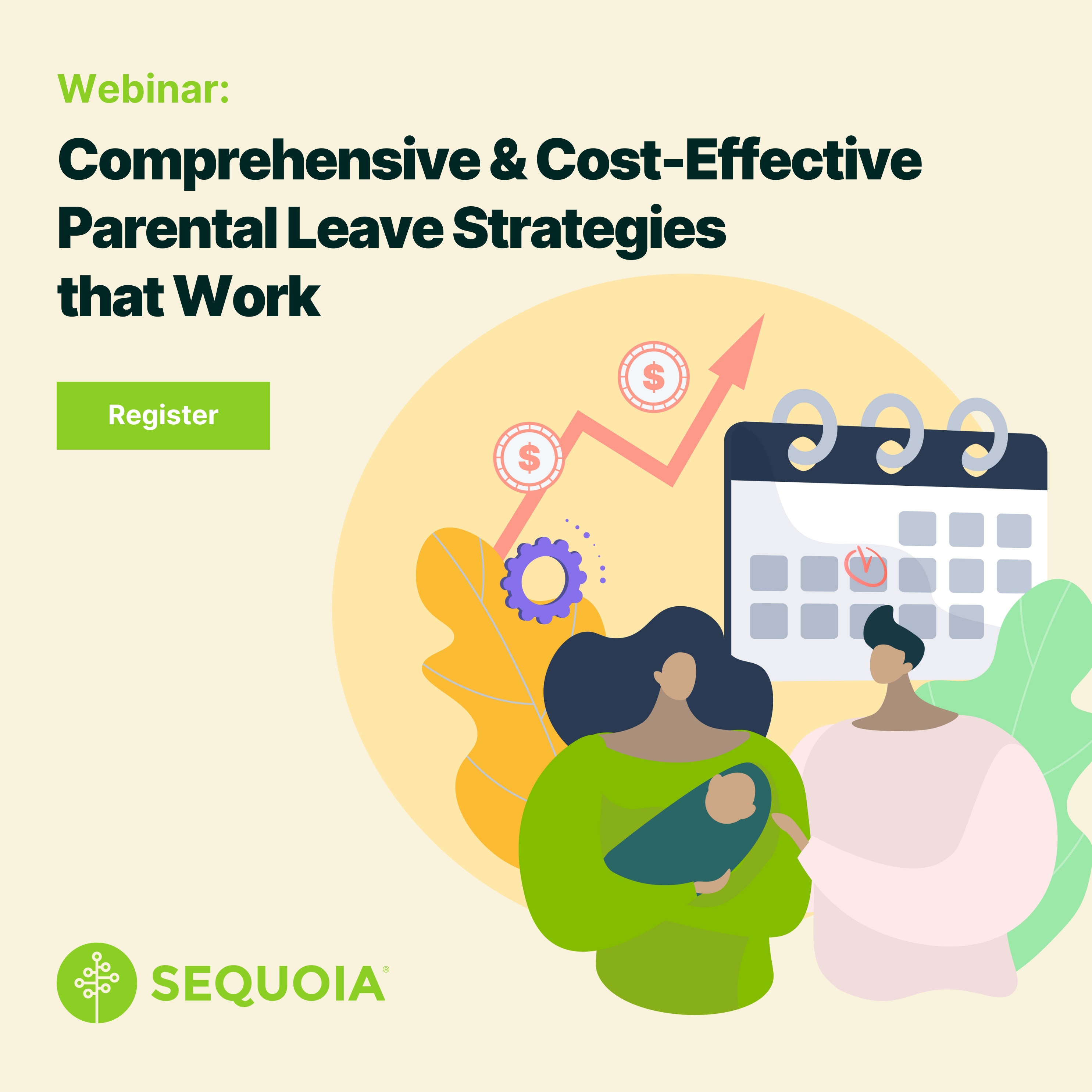 Comprehensive & Cost-Effective Parental Leave Strategies that Work
Struggling to implement robust paid leave programs amidst a challenging economic environment?
Join us to hear from people leaders who've approached these same concerns and developed thriving programs. They shared their policies, learnings, and tips and tricks to offering a paid family leave program your employees will love including:
Instituting LOA policies that go beyond financial coverage
Developing a supportive return-to-work program to increase retention
Exploring additional low-cost benefits that help create a complete parental package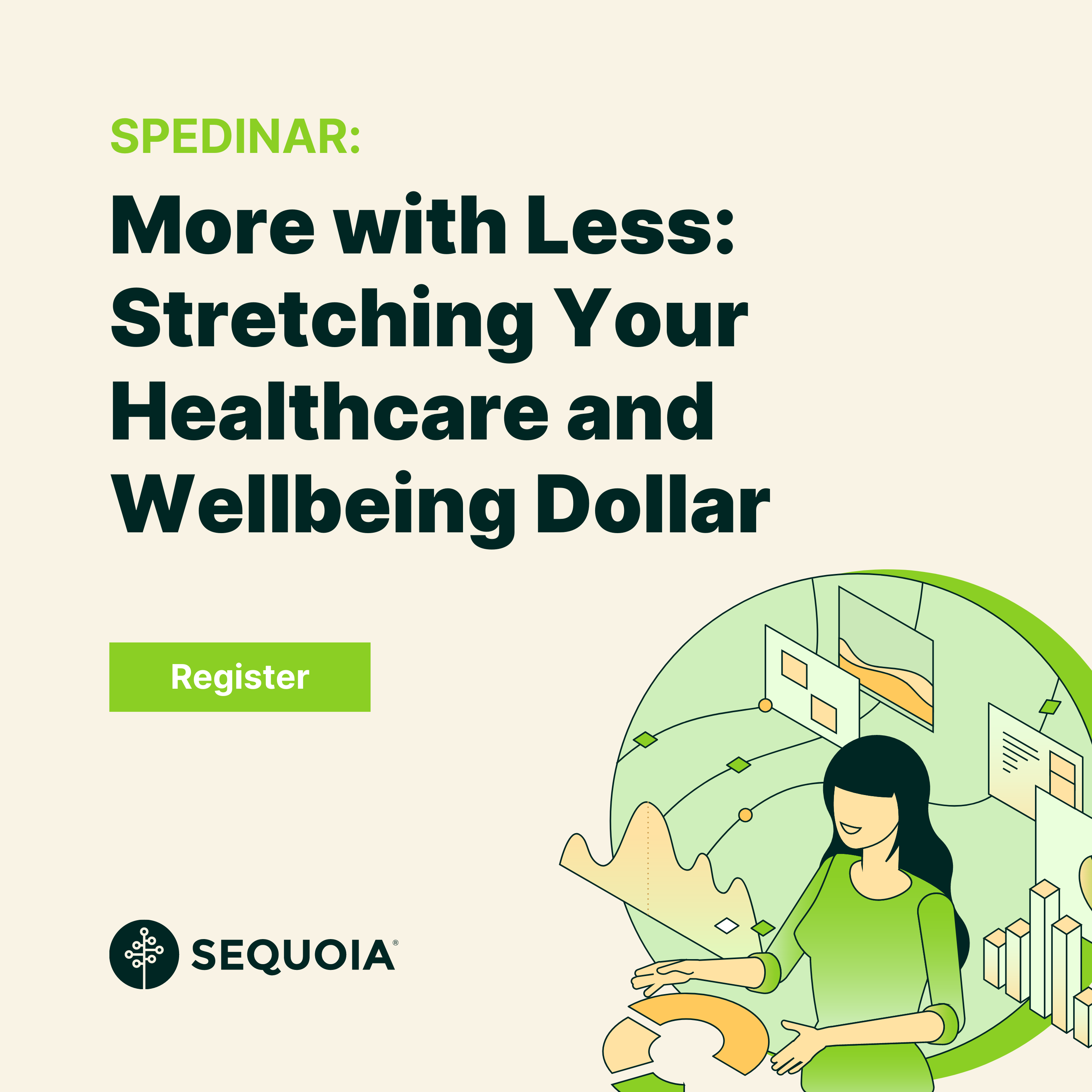 More With Less: Stretching Your Healthcare and Wellbeing Dollar
Designed for VC-backed high-growth tech companies with 100-500 employees

As a VC-backed emerging tech company, you may be looking for ways to do more with less. In this webinar, we discussed how mid-size companies are navigating smart healthcare and wellbeing investments to get the most out of their benefits dollar. We covered:
Economic options and advantages of pooling and bundles
What factors attract and retain employees in 2023
Create the right mix for your culture without overpaying
Ensure that employees use and appreciate what you offer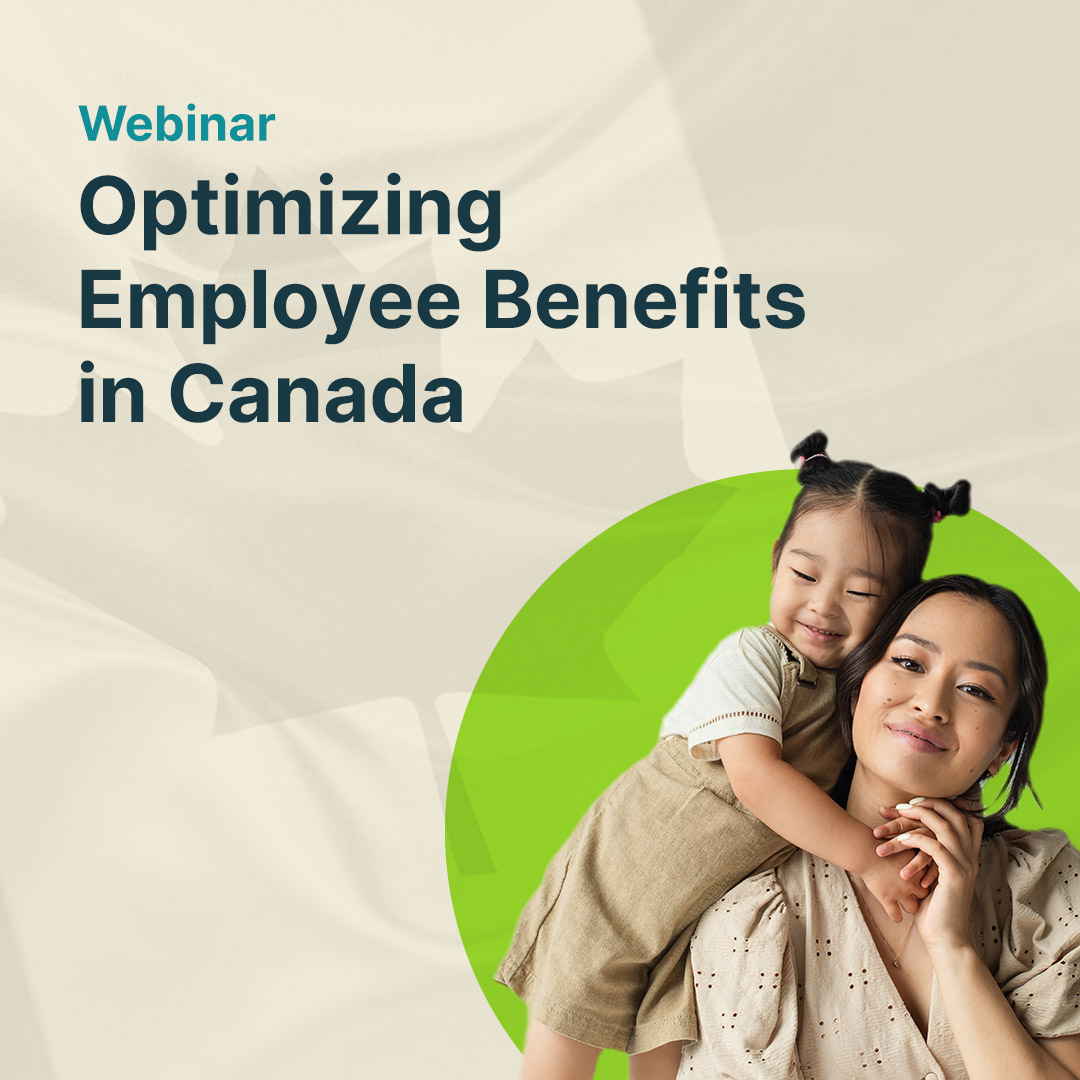 Optimizing Employee Benefits in Canada
Designed for Sequoia clients with Canadian operations and those considering setting up in the country
This webinar will provide visibility to the Canadian benefits landscape and what is typically provided within the tech industry there, including government-mandated benefits. We'll also explore best practices for setting up and managing benefits in Canada that will provide your company with a competitive edge while staying compliant with market practices.
Some insights we'll cover include:
Nuances of the Provincial healthcare system
The Retirement system and supplemental solutions
Mandated benefits and trends unique to Canada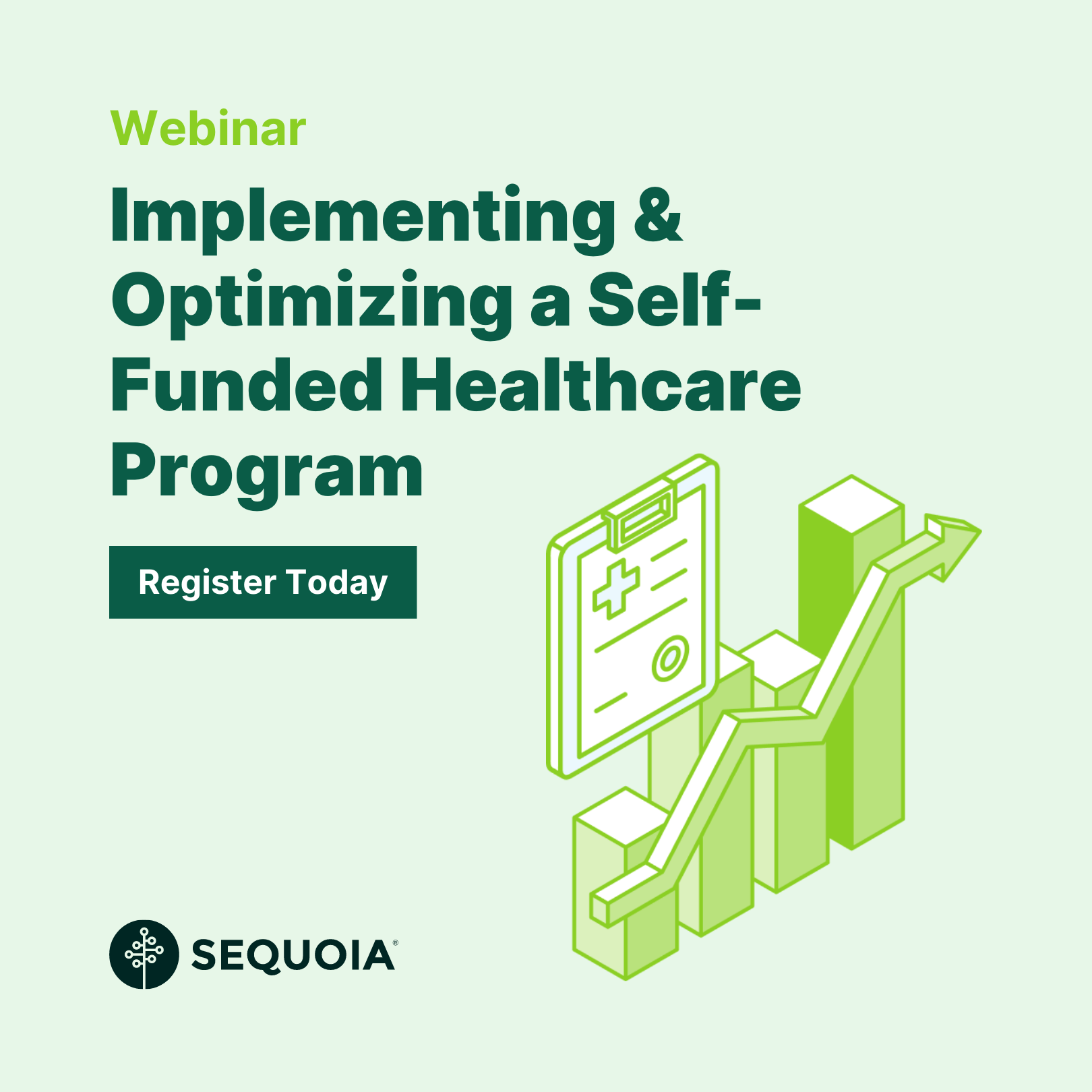 Implementing & Optimizing a Self-Funded Healthcare Program
Designed for enterprise & mid-sized companies

As companies seek out ways to optimize their healthcare investments and look to reduce costs, self-funding strategies continue to take the spotlight.
In this session, we shared quarterly best practices and unpacked insights from our latest survey of companies that are evaluating or optimizing a self-funded program. Some insights we shared include:
How peer companies are approaching self-funding healthcare programs
Best practices to position self-funding to internal stakeholders
How to sustain an optimized self-funded program during dynamic times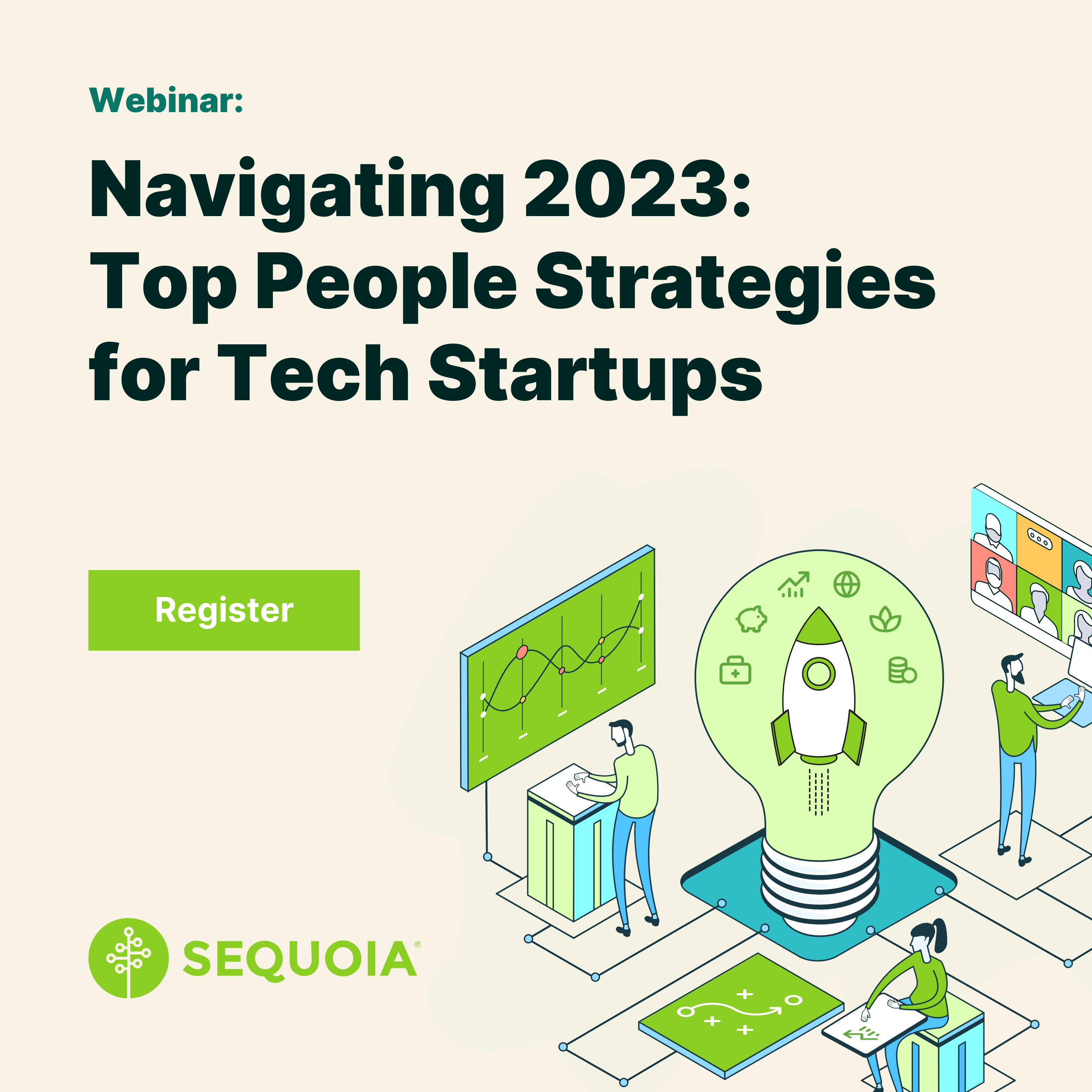 Navigating 2023: Top People Strategies for Tech Startups
Designed for startup founders and leaders exploring a PEO

With 2023 at full speed, tech startups find themselves needing to adjust quickly to economic realities, new pay regulations, and an ever-shifting workforce dynamic.
In this webinar, we discussed how to navigate three timely challenges that tech companies are facing today and shared smart strategies to help you win with people.
We covered how to:
Spend smartly on people in a tough economy
Retain the critical people you need
Attract key talent for your startup in 2023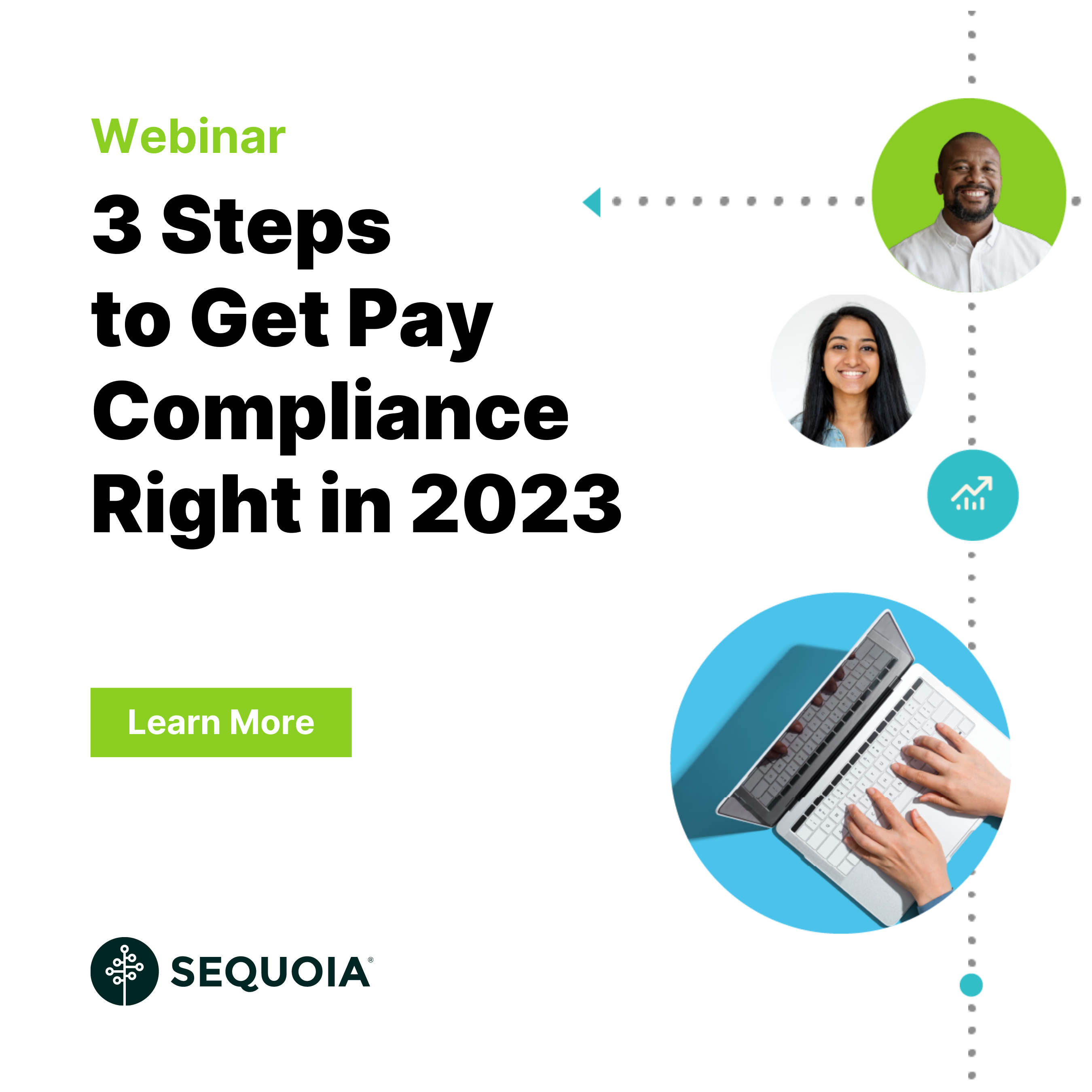 3 Steps to Get Pay Compliance Right
in 2023
Designed for Sequoia clients
With new pay transparency legislation in places like New York, Colorado, and California, companies are faced with the tough task of getting pay compliance right. Not only do organizations need to get there quickly, in many cases, they also need to revisit their compensation philosophy to make important decisions on defining pay ranges.
In this webinar, our team of compensation advisors walked through three fundamental steps that help companies get compliance right and support their ability to attract and retain top talent.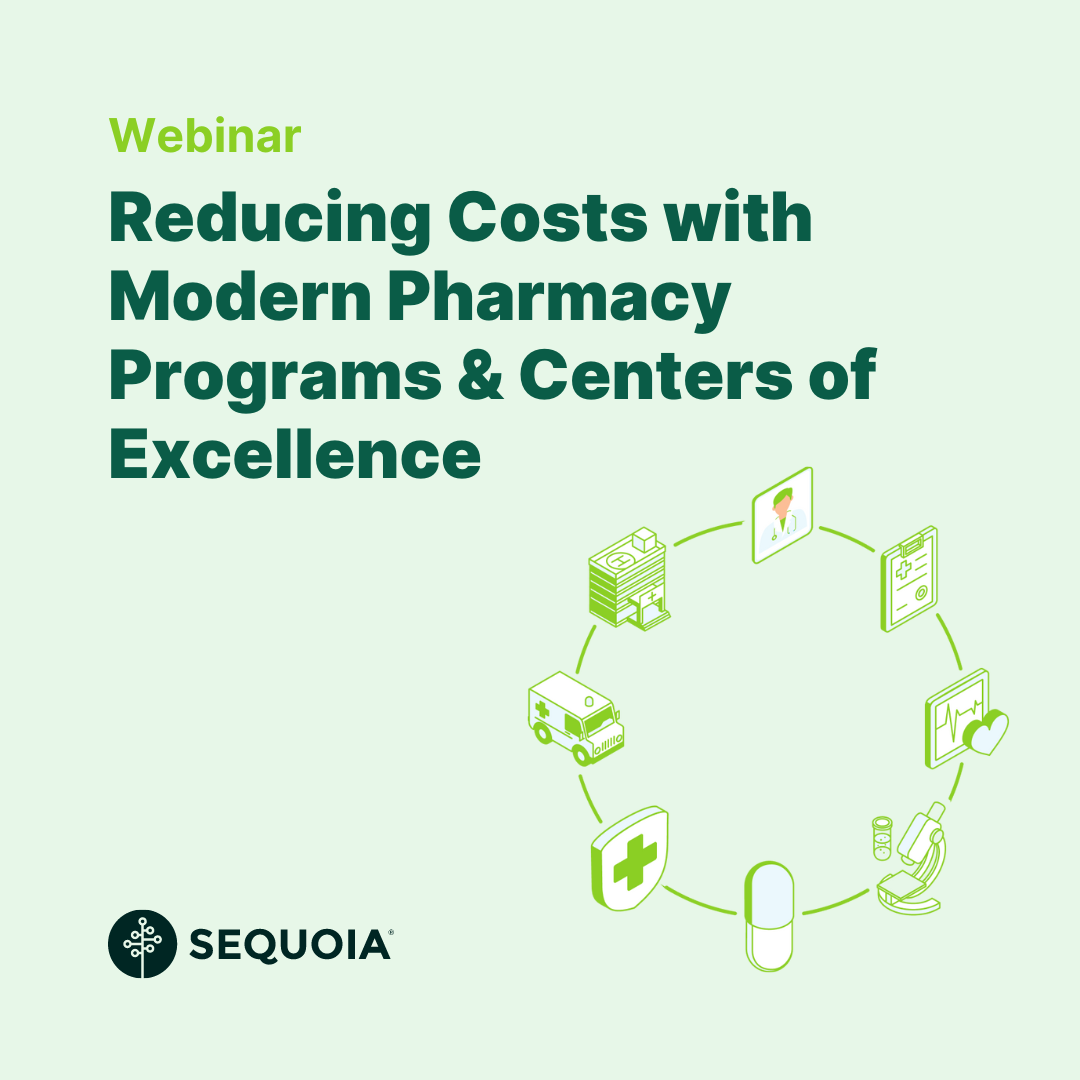 Reducing Costs with Modern Pharmacy & Centers of Excellence Strategies
Designed for enterprise & mid-sized companies

Sometimes reducing corporate costs results in lower quality employee healthcare and erodes the employee experience – but that doesn't have to be the case. In this webinar, we will explore two high-conviction cost containment strategies, Centers of Excellence (COE) and Pharmacy Benefit Management carve-outs. These strategies have proven track records to reduce costs, improve outcomes, and enhance employee experiences.
Join Sequoia, and the founders of two innovative healthcare companies, for an interactive 50 minutes – followed by Q&A – as we frame the opportunity, dive deep on the path forward, and share real results.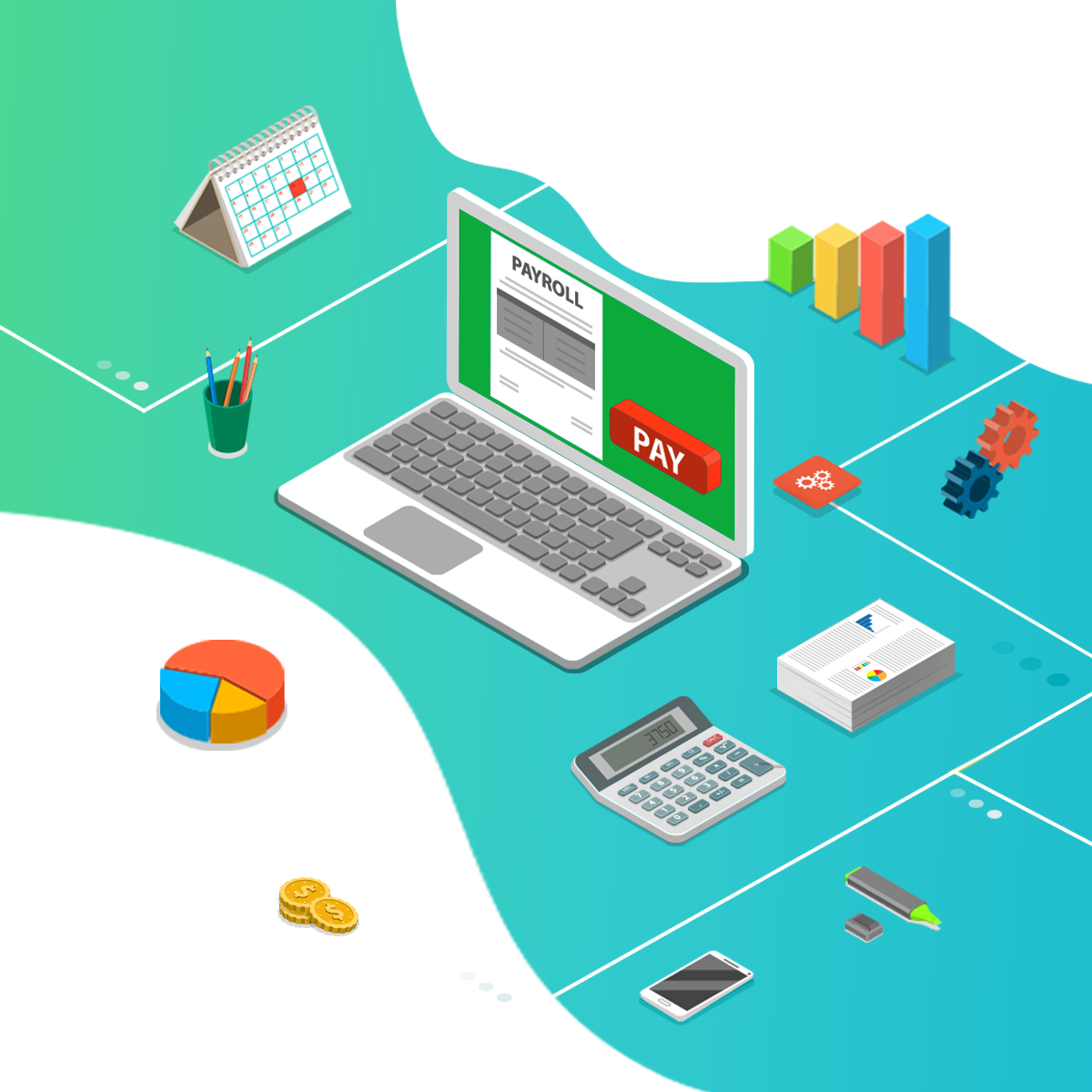 End-of-Year Payroll Webinar for Sequoia One Clients
Designed exclusively for Sequoia One clients 
Join Adela Alexander, Payroll Manager for Sequoia One, for an end-of-year payroll best practices session to review: 
Accounting for 2022 taxable events
How Sequoia One can assist with mass year-end changes
Repaying your Social Security deferral
Getting your Total Rewards Statements ready for year-end
Your top questions in a dedicated Q&A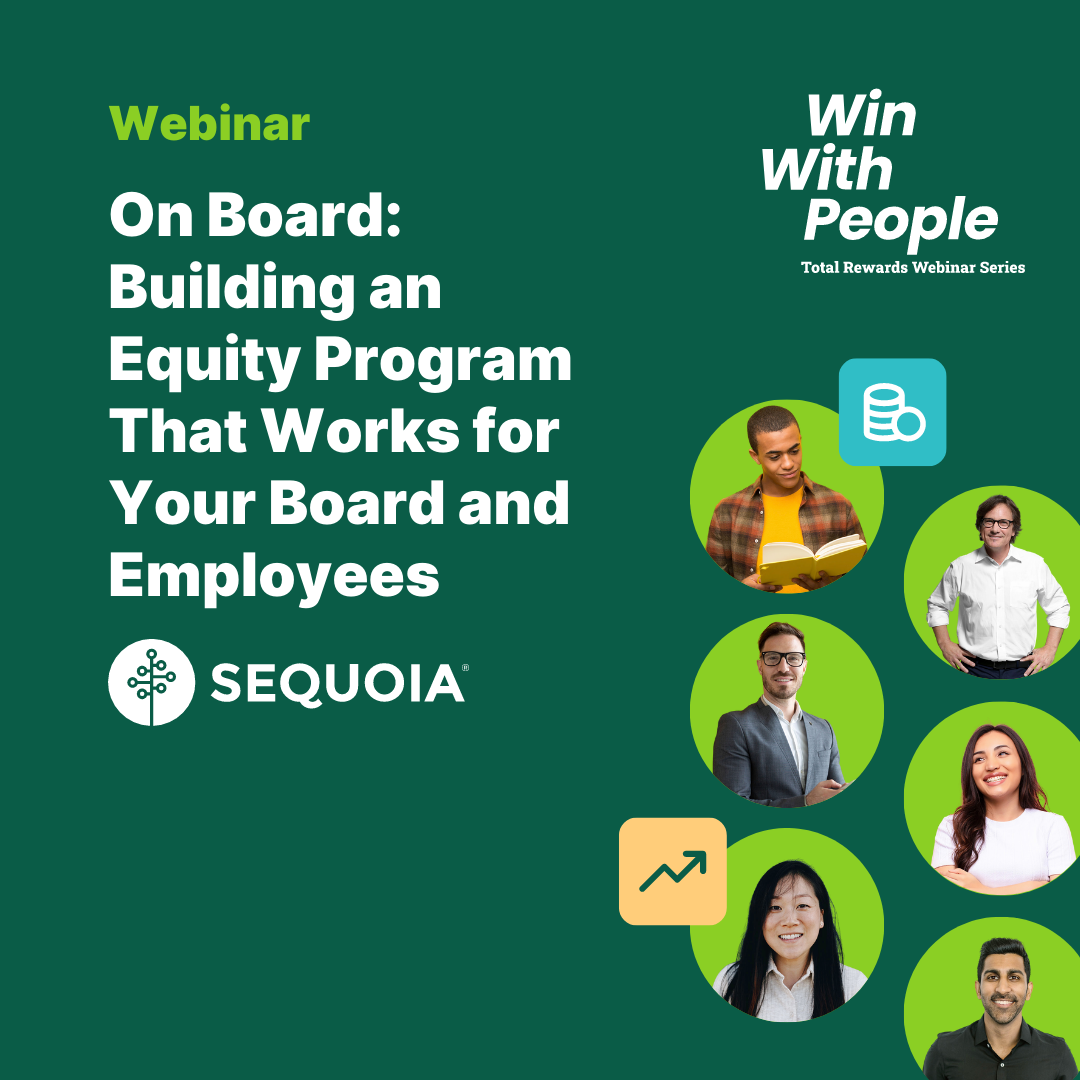 On Board: Building an Equity Program That Works for Your Board and Employees
Designed for those exploring Sequoia Total Rewards
Equity has gone from an innovative executive recruiting tool to table stakes for employees at tech companies. With the right process, design, and tools in place, you can improve your return on people investment and enable your equity program to do what it's meant to do – attract, motivate, and retain.
In this webinar, compensation experts from our Total Rewards Advisory team covered how to:
Integrate the interests of employees, the board, and all shareholders to design the optimal equity program
Communicate equity effectively to your employees
Continuously evaluate and monitor your equity program
Prove the return on people investment to leadership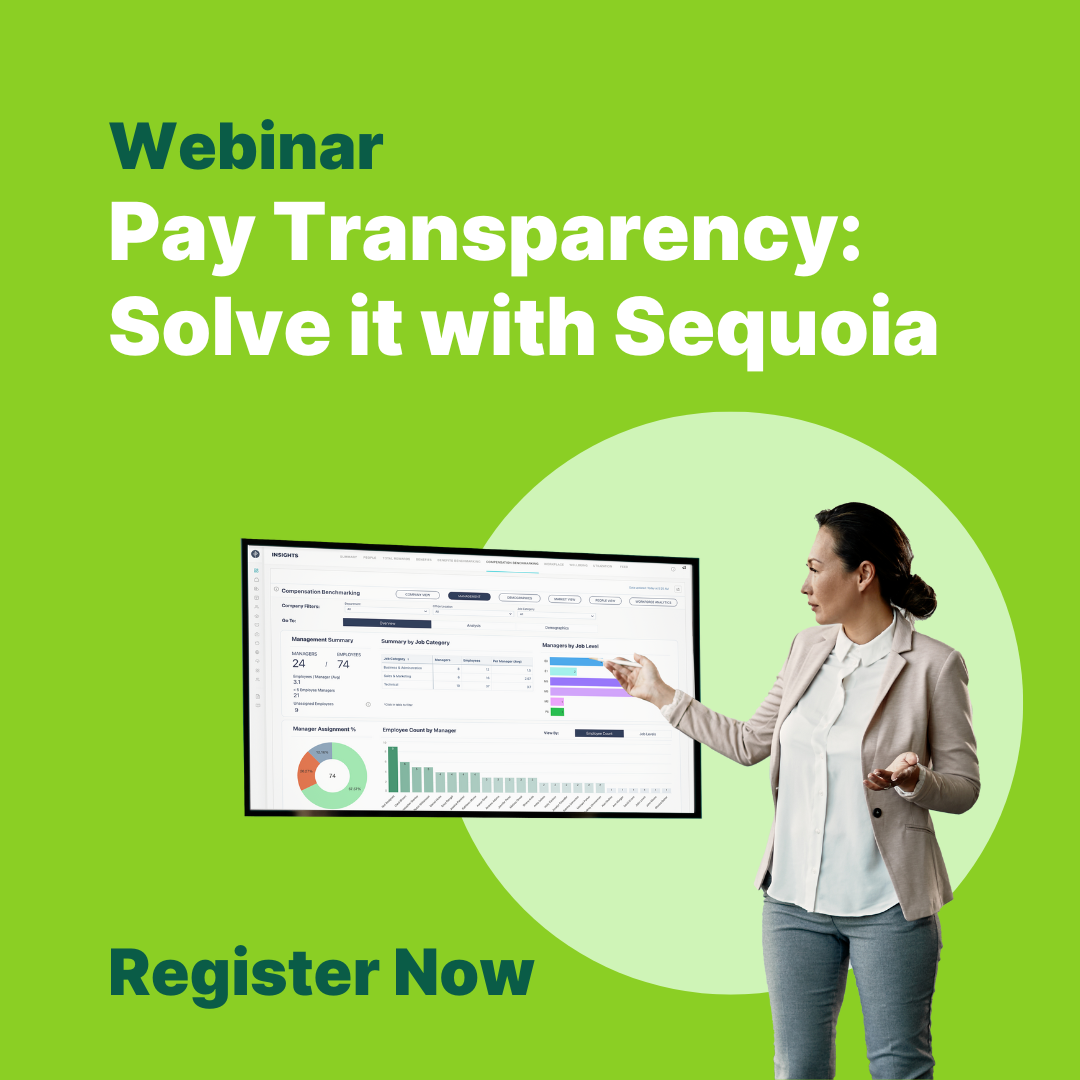 Pay Transparency: Solve it with Sequoia
As companies work to comply with new pay transparency laws, a larger concern is starting to form: moving forward, company-wide compensation will now be on display for all their employees, candidates, and competitors alike to see.
In this webinar, we explored what employers need to do and key considerations for doing it right. We also showcased how Sequoia's People Platform and Advisors can help support both immediate and long-term needs.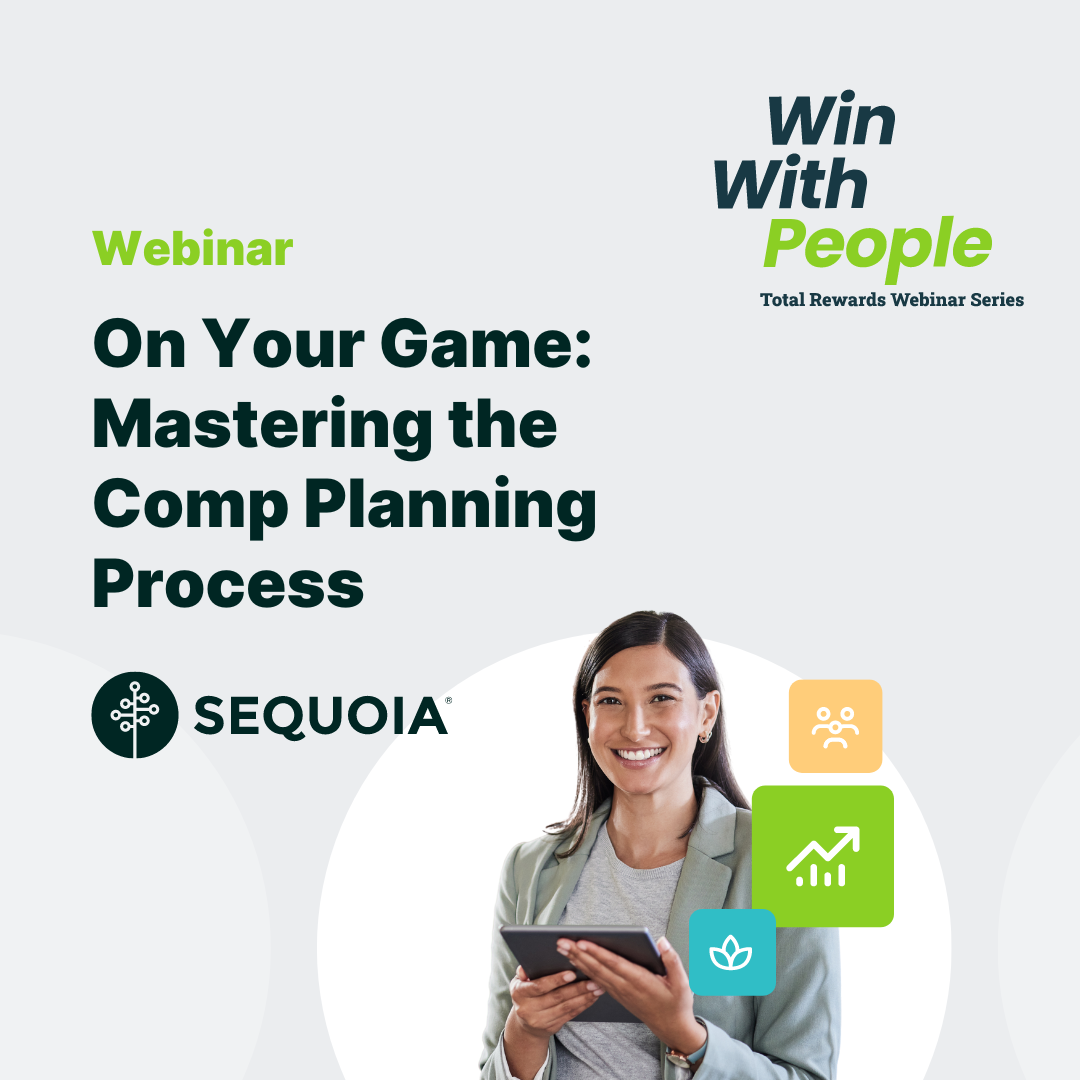 On Your Game: Mastering the Comp Planning Process
Designed for those exploring Sequoia Total Rewards
With economic pressure building and venture funding thinning, getting your compensation planning right is more important than ever.
Our panelists will share their strategies and learnings around:
Presenting a strategic case on desired budget to your board
Allocating your budget and making trade-off decisions
Communicating your decisions and reinforcing your philosophy to employees
Ensuring your internal and external pay transparency policies align
Solving the Top People-Related Challenges for Tech Startups
Designed for those exploring Sequoia
In this webinar, we'll provide guidance for tech start-ups on scaling your people strategy while you retain employees, attract top talent, and optimize your people-spend.
We'll cover how you can:
Leverage benchmarking data to stay competitive in
today's economy
Prioritize employee wellbeing
Create effective policies and processes that scale
Maintain compliance across all states to support
remote teams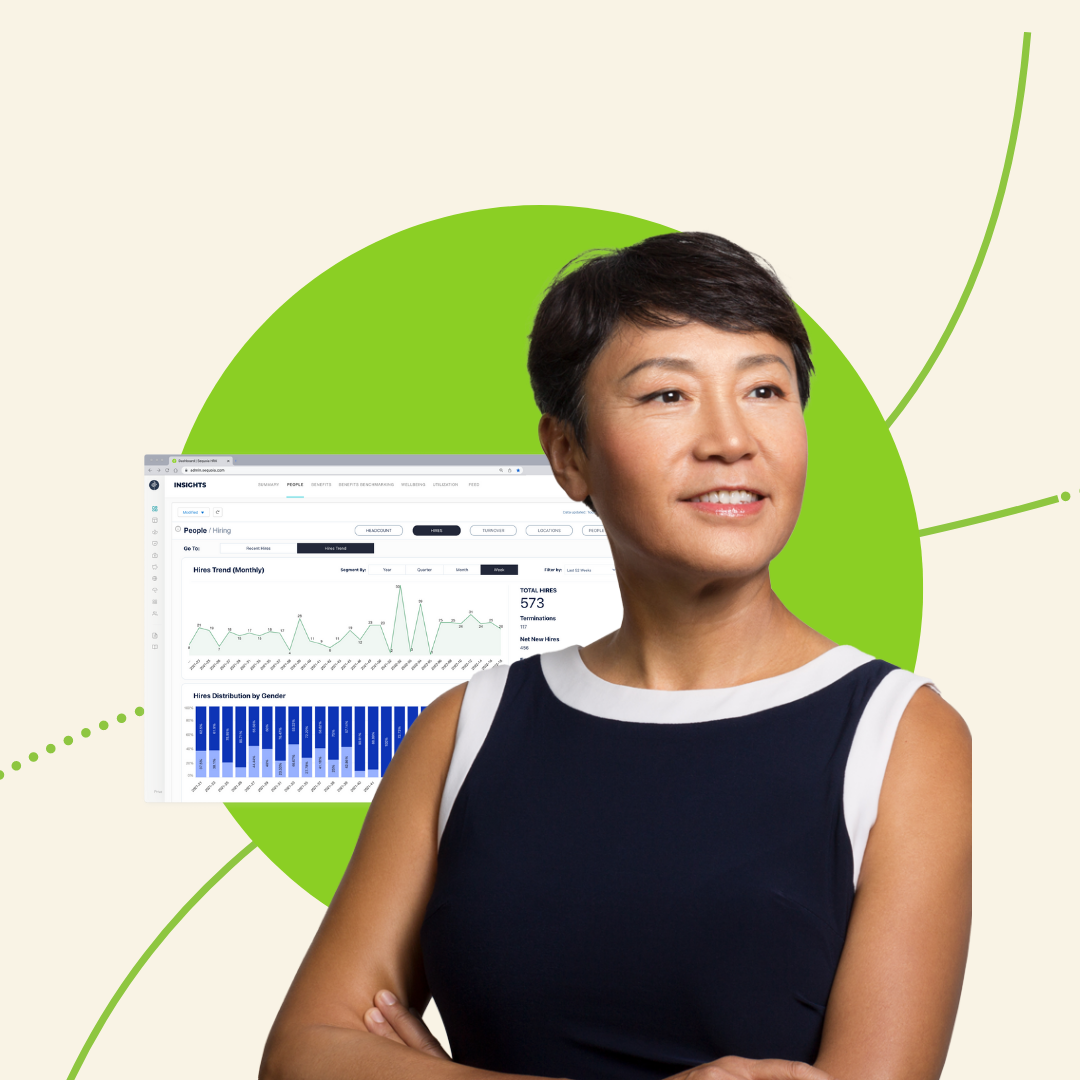 5 Total People Investment Insights for Your Next Board Meeting
This session was designed for CPOs at Sequoia clients

Total People Investment typically accounts for 75% of total business spend. As investors dig in on spend control, CPOs (and their CEO) must show command and control of how people spend is being applied across the org, and how it impacts their workforce dynamics.
During this 30-minute webinar, we demonstrate how TPI Insights can help you:
Forecast your total people spend
Manage your equity burn rate
Measure ROI on your people programs
See targeted views of turnover
Know the right levers to pull to ensure sustainability
Win With People:
Total Rewards Webinar Series
Pay. Equity. Benefits. Wellbeing. Yesterday's approach to Total Rewards simply isn't enough for this fast-moving and much more complex distributed workforce. In this series of webinars, our panel of Sequoia moderators and subject matter experts will unpack how pioneering HR and Business Leaders are approaching their workforce planning and total rewards strategy now. We'll also look at the latest capabilities of the Sequoia People Platform that support our clients' strategies and help them win with people.
The Grove Conference
Catch up on what you missed at The Grove Virtual Conference, our annual gathering for the Sequoia client community of people driven leaders.  
What Employers Need to Know About Self-Funded Programs Webinar Series
Three-part series designed for enterprise companies
Whether you are currently fully-insured, newly self-funded, or managing an established self-funded plan, gain valuable information in this three-part webinar series to optimize your program as you continue to grow.
Series panels include leaders from tech companies with recent implementation experience, financial management expertise, and long term strategic insights.
What Employers Need to Know: Healthcare Legislative Update & Vaccine Mandates
View this session recording or an update on the latest information on federal and state vaccine mandates as well as how employee benefits are impacted by President Biden's Build Back Better Plan.
You'll hear from experts including:
James Slotnick, Head of Government Relations at Sun Life
Marjory Robertson, AVP & Senior Counsel at Sun Life
The Startup Dilemma: Navigating the Hybrid Work Environment
In this 1-hour webinar, we unpacked how startups and emerging companies are adjusting in this hybrid work environment – from collaboration, to administration, to taking care of peoples' ever changing needs.
We heard lessons learned from HR and business leaders who are tackling these issues to ensure their companies continue on their path to greatness.
Bo Han, Founder & CEO at Buzzer
Melina Murray, VP, People at Replicated
Andrew Knowles, Sr. People Operations Manager at Yardzen
Daniel Harrah, National Director of Clinical Partnerships at Spring Health
Rachel Schwab, Sr. HR Business Partner at Sequoia
WellBeyond Virtual Series & Awards
WellBeyond is a free, global, and industry-wide thought leadership series and awards program focused on the now and next in workplace wellbeing.
Managing the Hybrid Workplace Experience
Sequoia Webinar | June 17, 2021
Tips for Your Return to the Office: Facilities, Vaccine Policies, and Supporting Your Remote Team
Sequoia Webinar | May 18, 2021
Learning from Each Other: How Clients are Approaching a Hybrid RTW
Sequoia Webinar | April 29, 2021
COVID-19 Legal Roundup: COBRA Subsidies, Vaccines, Extended Benefits, and Leave Requirements
Sequoia Webinar | April 22, 2021
Sequoia Wellbeing Bundle: Get to Know Cleo
Sequoia Webinar | April 15, 2021
Vaccines + Employer Policy Deep Dive
Sequoia Webinar | February 18, 2021
Understanding the Vaccines and Recent COVID Legislation Requirements
Sequoia Webinar | January 28, 2021
The Next Chapter: Understanding the Biden Administration's Impact on Employee Benefits
Sequoia Webinar | January 21, 2021
Vetting the Key Decisions of Your RTW Strategy
Sequoia Webinar | December 15, 2020
What HR Teams Need to Know About SB 1159 and AB 685 and How to Respond
Sequoia Webinar | November 17, 2020
Workers' Compensation Now: The Experts Weigh In
Sequoia Webinar | October 22, 2020
Successfully Managing a Distributed Workforce
Sequoia Webinar | October 8, 2020
Sequoia Innovation Lab: Meet the Class of 2020 – Virtual Care Concierge Edition
Sequoia Webinar | October 1, 2020
Sequoia Innovation Lab: Meet the Class of 2020 – Systems Edition
Sequoia Webinar | September 28, 2020
San Francisco HCSO: What You Need to Know
Sequoia Webinar | September 24, 2020
Top 5 Lessons from Companies Returning to their Offices
Sequoia Webinar | September 15, 2020
Sequoia One Webinar: Q3 Compliance Update
Sequoia Webinar | August 13, 2020
Extended WFH Part II: Working Parents, Mental Health, and Company Culture
Sequoia Webinar | August 6, 2020
Extended WFH: Policy, People, and Problem Solving
Sequoia Webinar | August 4, 2020
Sequoia Tech Program: Adding a Smart Healthcare and Wellbeing Approach to your Return to the Workplace
Sequoia Webinar | July 16, 2020
Workers' Compensation: Ensuring Protection of Your People and Your Business
Sequoia Webinar | June 25, 2020
Providing Effective Wellbeing in a COVID Era
Sequoia Webinar | June 18, 2020
Caring for our Community During COVID-19
Sequoia Webinar | June 2, 2020
Practitioners Focus: The Key Steps of a Comprehensive RTW Program
Sequoia Webinar | May 28, 2020
Launch of the Sequoia Return to Work Center™
Sequoia Webinar | May 14, 2020
Optimizing a Self-Funded Healthcare Program in Our New World
Sequoia Webinar | May 5, 2020
The Return to Work Program (Kickoff)
Sequoia Webinar | April 30, 2020
Supporting Parents During COVID-19
Sequoia Webinar | April 28, 2020
COVID-19 Survey Insights for HR & Ops Decisions
Sequoia Webinar | April 23, 2020
Navigating the CARES Act and the Economy During COVID-19
Sequoia Webinar | April 21, 2020
First Look: New Workforce Tech
Sequoia Webinar | April 16, 2020
COVID-19 Paid Sick Leave and FMLA: What Employers Need to Know
Sequoia Webinar | April 14, 2020
First Look: New Healthcare & Wellness Tech
Sequoia Webinar | April 9, 2020
Supporting a Fully Remote Workforce
Sequoia Webinar | April 7, 2020
Supporting Employee Mental Health During COVID-19
Sequoia Webinar | April 2, 2020
Onboarding Strategies During Social Distancing
Sequoia Webinar | March 31, 2020
Diversity & Inclusion: Moving Towards Meaningful Change
Sequoia Webinar | March 26, 2020
HRX: How it Helps HR in This Challenging Time
Sequoia Webinar | March 24, 2020
Investment Decisions in Times of Heightened Market Volatility
Sequoia Webinar | March 13, 2020
Preparing for the Next Decade of HR
Sequoia Webinar | March 12, 2020
HR Strategies & Tactics to Navigate the Challenges of COVID-19
Sequoia Webinar | March 10, 2020
HR Thought Leadership Session: Managing a Distributed Workforce
(SF) – Sequoia | February 26, 2020
HR Thought Leadership Session: Parental Leave Workshop
(Denver, CO) – Sequoia | February 25, 2020
HR Thought Leadership Session: Managing a Distributed Workforce
(Palo Alto) – Sequoia | February 19, 2020 
HR Thought Leadership Session: How to Build A Competitive Total Rewards Program
(NYC) – Sequoia | January 30, 2020
HR Thought Leadership Session: Scaling HR and Company Culture 
(SF) – Sequoia | January 29, 2020
HR Thought Leadership Session: Goal Setting That Works
(NYC) – Sequoia | January 28, 2020
HR Thought Leadership Session: Building a Social Impact Program
(SF) – Sequoia | November 20, 2019
HR Thought Leadership Session: How to Build and Lead Cross-Functional Teams
(LA) – Upfront Ventures | November 20, 2019
HR Thought Leadership Session: Building a Social Impact Program
(Palo Alto) – Playground Global | NOV 13, 2019
HR Thought Leadership Session: Performance Management Best Practices
(SF) – Sequoia | October 30, 2019
HR Thought Leadership Session: Performance Management Best Practices
(Palo Alto) – Playground Global | October 17, 2019
HR Thought Leadership Session: Goal Setting That Works
(NYC) – Sequoia | October 10, 2019
HR Thought Leadership Event: Going Global: Strategies and Best Practices for International Expansion
(SF) – Sequoia | August 28, 2019
HR Thought Leadership Event: Building an Effective Employee Onboarding Process
(SF) – Sequoia | July 24, 2019
HR Thought Leadership Event: Building an Effective Employee Onboarding Process
(Palo Alto) – Playground Global | July 17, 2019
HR Thought Leadership Event: How to Build a Competitive Total Rewards Program
 (SF) – Sequoia | June 26, 2019
HR Thought Leadership Event: Optimizing Remote Work 
 (NYC) – Sequoia | June 20, 2019
HR Thought Leadership Event: How to Build a Competitive Total Rewards Program
 (Palo Alto) – Playground Global | June 12, 2019
HR Thought Leadership Event: Training Effective Managers for a Fast Growing Environment
(SF) – Sequoia | May 29, 2019
HR Thought Leadership Event: Training Effective Managers for a Fast Growing Environment
(Palo Alto) – Sitetracker | May 15, 2019
The Grove Client Conference
(SF) – W Hotel | April 25, 2019
The Healthiest Employers of New York City Awards
(NYC) – The High Line Hotel NYC | April 3, 2019
Sign up to be notified about future events