The Path Forward:


Return to Work Program for Tech Companies
As shelter-in-place orders are lifted, you'll need to consider when and how to move forward in a way that ensures the health and safety of both your employees and your business. 
This webinar series, in support of Sequoia's RTW program, brings together some of the best business, legal, and medical experts, as well as the tools and Sequoia resources to help guide you on the path forward.
Providing Effective Wellbeing in a COVID Era
Thursday, June 18th, 2020 
Join us for a webinar examining how companies are approaching the physical, emotional, and financial wellbeing of their people under the strains of COVID-19.
Practitioners Focus: The Key Steps of a Comprehensive RTW Program
A deep dive into the Sequoia Framework™ and Playbook and a dedicated session on your top RTW questions. We were joined by the following panelists:
Allan McCall, VP of Total Rewards at 10x Genomics 
Debra Thompson, CPO at Chegg 
Julia Goldberg, SVP, Global Real Estate, Facilities and Security at Buzzfeed 
Stephen Kim, Chief Legal & Administrative Officer at Sequoia Consulting Group 
Launch of the Sequoia Return to Work Center™
We unveiled the Sequoia Return to Work Center™ and unpacked how it supports clients' needs across the pillars of the RTW Framework including: 
Creating dynamic policies

 

Setting up testing & care

 

Running the RTW playbook & cohorts
Educating & communicating with your people

 

Analyzing & 

managing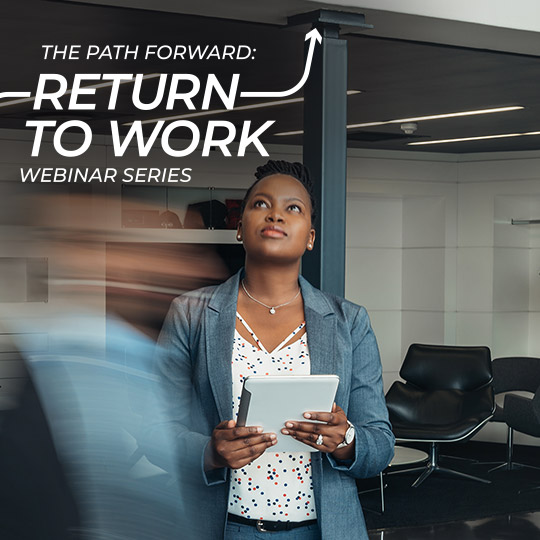 The Return to Work Program (Kickoff)
Sequoia is providing technology companies a path forward in their Return to Work. In support of this new program, we hosted a webinar kicking-off the program on Thursday, April 30th at 10 am PST. Our program will be looking holistically at approaches and tools to help during this fast moving and challenging time. 
We were joined by the following experts:
Will Kimbrough, Sr. Medical Director of Clinical Programs & National Virtual Medical Director, One Medical
Greg Golub, Chief Executive Officer, Sequoia
Marina Tsatalis, Partner at Wilson Sonsini Goodrich & Rosati
Steve Kim, Chief Legal & Administrative Officer, Sequoia
Bob Lawson, Chief Financial Officer, Sequoia
Michele Floriani, Chief Marketing Officer, Sequoia (Moderator)